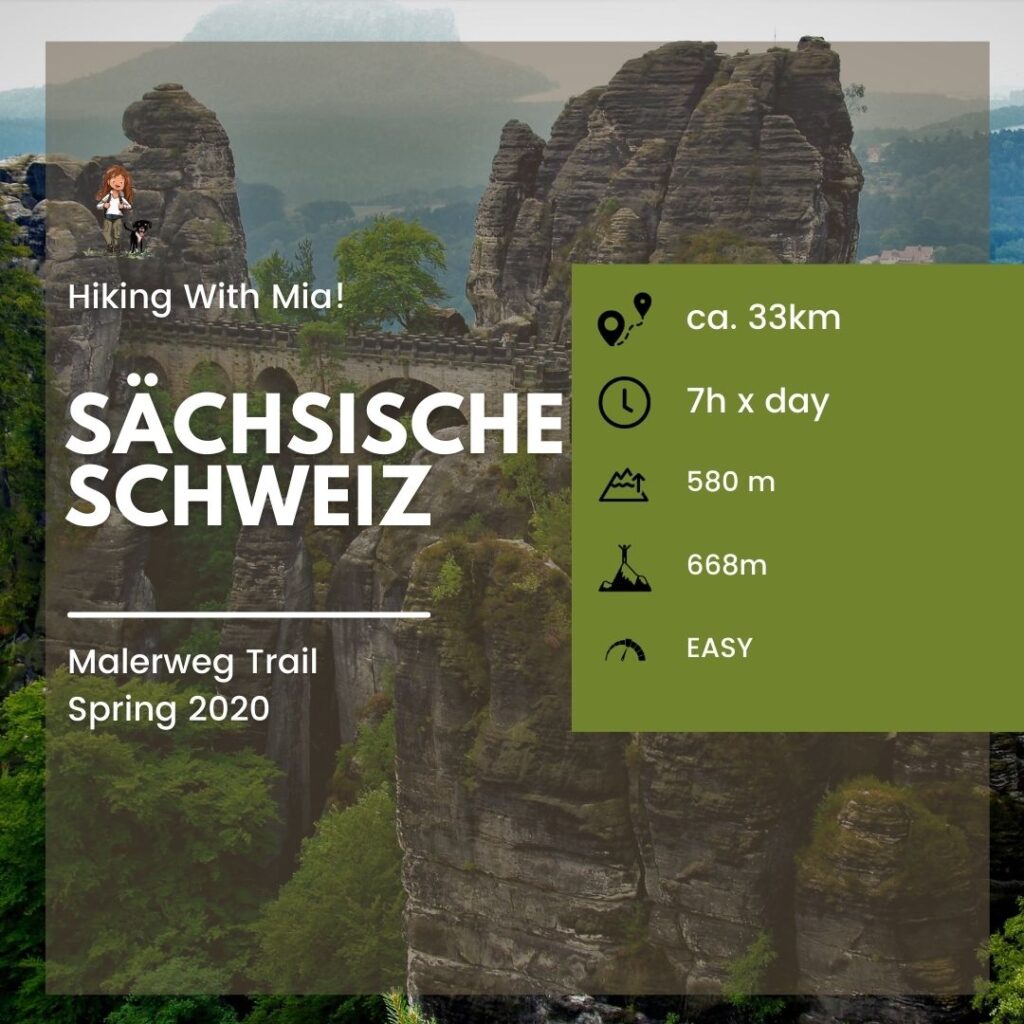 In 2020, Mia embarked on her first 3-day "hike" in Sächsische Schweiz (Saxon National Park). She was way too tiny to truly hike as you can see in the second picture in comparison with our backpacks😍. Our trail choice was parts of stages 3, 4, and 5 from the Malerweg Hiking Trail.
We journeyed from Berlin being our starting point near Bad Schandau. A note for you: trams required Mia to wear a muzzle.
The hike mainly involved Mia energetically running for about 30 minutes, after which I carried her for the remainder of the day. As evident in the third picture, I used a large baby-carrying scarf for this purpose. Neither my friend nor I had ever used one, so it was amusing watching us intently studying the instructions. Plus, passersby expected to see a baby's face, not the furry ears of a snoozing Mia poking out 😂
Following the plan, we slept in a Boofen where it is allowed to sleep (https://shorturl.at/goqtV). A "Boofen" is an outdoor sleeping spot, often under rock overhangs or inside caves, designed for mountaineers and climbers. Our trip was towards the end of May and the start of June. Nights were chilly, so I needed to snuggle Mia inside my sleeping bag. At one Boofen, we encountered two guys who immediately fell in love with Mia (and who could blame them!). Within minutes, she had hopped onto one of their laps for a nap. I am pretty sure both were really happy as you can see in the fifth picture 😅
I must say that my friend had a lot of patience. Mia's excitement was palpable, as you can see in the video. The route we chose involved staircases and obstacles that would have been unbeatable had Mia not been a lightweight puppy. So, if you have a larger or heavier dog, or if you're unable to carry them, it's advisable to select a different path. Sächsische Schweiz offers plenty of hiking options. On the last day, the scarf method was no longer viable for carrying Mia, so she rode in my backpack. I believe she thoroughly enjoyed that too, as you can see in the last picture 🙂.
You can find the routes here: https://shorturl.at/ABLN6